Masters of Storytelling: Kris Bowers
Masters of Storytelling: Kris Bowers
"So much of our human experience with music is a visceral connection… My job is to figure out how to accompany an image to make somebody feel a certain way, and there's so many ways that can be done."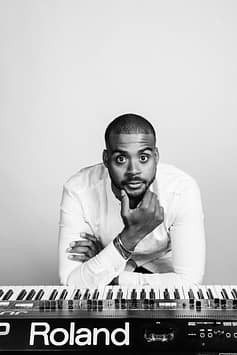 An Emmy Award-winning composer and pianist, Kris Bowers has mastered the art of translating emotion to sound. From Bridgerton to Space Jam, Green Book, and most recently, King Richard, the Juilliard-educated pianist has established himself at the forefront of Hollywood's emerging generation of genre-defying composers.
Born and raised in Los Angeles, Kris first made a name for himself in 2011, when he won the prestigious Thelonious Monk International Jazz Piano Competition at the Kennedy Center in Washington, D.C. The win earned him a record deal with Concord Jazz, who later released his debut album, Heroes+Misfits, which opened at number one on the iTunes jazz chart in 2014. Since then, he's gone on to compose for projects that include Kobe Bryant's Muse, Ava DuVernay's When They See Us, Netflix's Dear White People, and Shonda Rhimes' Inventing Anna. In addition to his work as a composer for TV and film, Kris has recorded and performed with artists such as Q-Tip, Aretha Franklin, Ludacris, Christian Rich, Jay-Z, and Kanye West.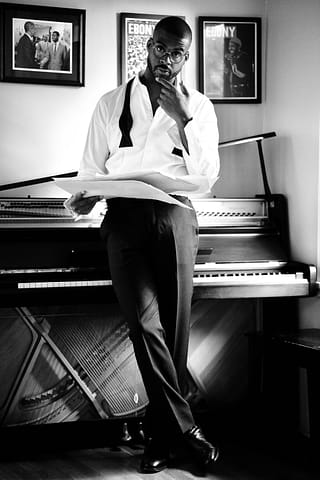 In this episode of Masters of Storytelling, Maya talks to Kris about his craft as a composer, how he views jazz as a way of life, and the visceral experience of tying sound to story.
Listen now on Apple Podcasts and Spotify.
Many thanks to Kris Bowers for providing music for this episode:
0:00 — "What's Stopping Us" from Netflix's "Dear White People"
06:35 — "Bed-Stuy Princess / No System" from "Monsters and Men"
17:55 — "Hitchhiking"
22:01 — End Credits from "Monsters and Men"
33:58 — "In Loving Memory" from "Monsters and Men"
42:40 — "What's Stopping Us" from Netflix's "Dear White People"
For more information about Kris, visit: www.krisbowers.com
Next article
Sign up for our newsletter