Swiss Army Knives: Pushing Boundaries with Mikey Nitro
Swiss Army Knives: Pushing Boundaries with Mikey Nitro
June, 2021
Written by Edward Hodge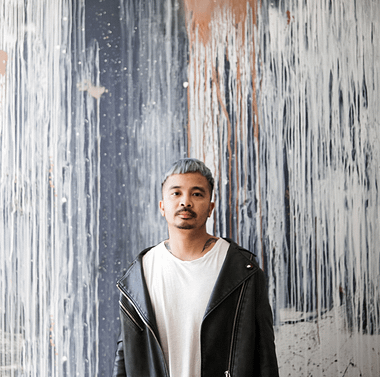 Mikey Nitro is a true member of the BRC Swiss Army Knives. An exceptionally talented designer, artist, and problem solver, he also happens to be one of my favorite people at BRC. When everyone else is stumped, Mikey can solve narrative problems with spatial solutions that are full of energy and emotion. Most importantly, Mikey is a storyteller: he creates narratives spaces that invite guests to go on imaginative, transformative adventures. I started working with Mikey eight years ago on projects that include the Las Vegas Raiders' new tour experience at Allegiant Stadium, the Ford Rouge Factory Tour, Rock and Roll Hall of Fame, and Absolut Home.
I recently sat down with Mikey and the first question I asked was a kind of origin story. Who were his heroes growing up?
"I was lucky enough to grow up watching Kobe and what I call "the Mighty Mikes": Michael Jordan, Mike Tyson, and Michelangelo (the Ninja Turtle, not the painter). Growing up a minority ain't easy, and the Mighty Mikes showed me the power of purpose, focus, and intention. My biggest role model was my mom. She beat cancer and had to sell her house to pay her medical bills. She then started over from scratch and built her own business. She's one of the strongest people I know and inspires me to hustle and follow my dreams every day.
I asked Mikey about his breakthrough at BRC. When did he know this place was right for him?
"My first project was a turning point for the company: "Story Garden" by AMOREPACIFIC. This was a brand home for employees, created to immerse new recruits in their brand story, values, and corporate culture. I loved seeing something I worked so hard on get built and then watching people enjoy it. What a pleasure that is. These projects take years. There's so much experimentation, exploration, and discipline that goes into finding the right solution. It's the same now as it was back then: experiencing your design in person and seeing other people's initial, genuine reactions is the greatest feeling in the world. Never gets old."
I've had the pleasure of working with Mikey on a lot of projects and I've always been impressed with his ability to figure things out in a blink.
"I start with limits: budget, size, brand—because it's important to maintain a realistic perspective and to set all your limitations beforehand. Creating your initial canvas as accurately as possible to play is critical. I then look for inspiration. What are the key attributes of the brand? Every brand has a language. Within the language, I find key brand attributes that define the story and space. Literally everything in the space from form, materials, furniture, to the shapes of the doorknobs falls out of these attributes."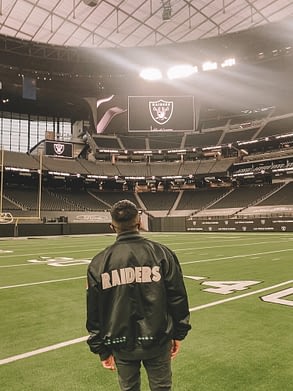 Is he influenced by design trends?
"It's important to know what trends are out there and to deconstruct them. We design for the long haul: our projects are meant to last for decades. So, we don't ask "what's new?" as much as "what's timeless?" Minimal is maximal. This goes for everything: timeless materials, timeless colors, even timeless technology. It's the difference between a poem and an essay. There's a place for both. To make a design last, you have to design with no ego, be open to all potentiality, and understand the purpose of the story we have to tell. You have to design something that's porous. Something that's adaptable to change since culture and society are constantly changing.
One of the things I love about Mikey is that he's fearless. He's not afraid to fail.
While working together on a recent project, he sketched a portal for a theater and although we both knew it was terrible, it created an opportunity to ask the right questions and inside an hour we found the design language that we needed.
"That's the great thing about working with this team. No fear. We just take big chances because the faster you fail the sooner you get to something that works. I try to push ideas as far out as I can, and it's important to work with a strong team and have people like Edward pull me back and find the balance, find the simplicity, and discover the one right solution. Ultimately, we all have the same end goal: for each project to bloom to its fullest potential.
My goal is to help shape the project's story into something physical and emotional. We're designing for meaning and purpose: if we achieve these things, the aesthetics take care of themselves. What I bring to BRC is my knowledge of design as a whole: its history, its theory, its role in shaping emotion."
I asked Mikey what advice he would give to designers just starting out.
"Design without ego. I know It's hard for designers. But try. Unless, of course, you're designing for yourself. Every client and brand has its own language and it's our job to tell a story and make a remarkable experience out of it. Once your ego is gone, it opens more doors to the higher potential beyond what you know or think you know. Push the boundaries. Stir shit up. Deconstruct your project and view it from all perspectives.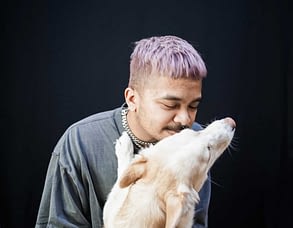 BRC is damn lucky to have Mikey Nitro on the team. He's the rarest of teammates: wildly creative, hugely talented, and both modest and collaborative. I sincerely hope he doesn't read this, get a big head and spoil everything….
Next article
Sign up for our newsletter