The Business Case for Brand Homes
The Business Case for Brand Homes
DECEMBER, 2020
"EXPERIENCES ARE KEY FOR DRIVING EMOTIONAL ENGAGEMENT AND BUILDING LOYALTY."
On November 18, Christian Lachel, Executive Creative Director and Vice President at BRC Imagination Arts, sat down for a conversation with Daniel Yaffe, Co-Founder and Chief Operating Officer at AnyRoad.
A part of AnyRoad's Polaris series, the discussion focused on brand homes: what they are, why you need one, and how to measure their impact. BRC, which has created some of the most respected and acclaimed brand and cultural destinations in the world, often partners with AnyRoad, a leading Experience Relationship Management (ERM) platform, to help clients transform branded experiences into data and actionable insights at every step of the customer journey.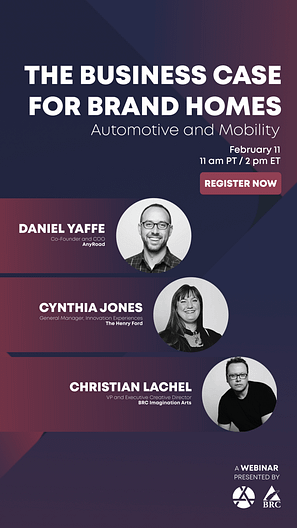 As described by Christian, a brand home is a place for sharing stories and sensory experiences in the service of a brand. The goal is to create an emotionally engaging experience that celebrates the heart of the audience and invite them to be part of the brand story, rather than just a passive consumer of it.
The best brand homes find the shared values that unite us and remind us that we're part of something bigger than ourselves. Brand homes that are emotional and created with heart, empathy, and put human connection at the core of their offering will be the brands that people remember for a lifetime.
Although brand homes have traditionally been physical spaces, the coronavirus pandemic has accelerated the need for digital experiences at lightning speed. Going forward, brand homes will need to be omni-channel and incorporate a robust ecosystem that enables them to be everywhere their customers are.
Whether you have an existing brand home or a looking to create a new brand platform, Christian encouraged brand leaders to start by asking: What are we trying to achieve through this omni-channel platform? How can we use this platform to amplify beyond the physical space? To answer this, BRC spends a significant amount of time with clients in strategic workshops and listening sessions to identify in-depth consumer and market insights and to understand the goals and KPIs of the brand home's holistic offering. The goals may be brand-related (affinity, advocacy, lifetime loyalty), community focused (tourism, sustainability, diversity) or economic (revenue).
With clear goals in hand, leaders can define success metrics that speak to the brand, community and economic impact they seek to create. Building this intention into the foundation of the brand home will ensure that it drives a return on investment/experience. That ROI/E should go beyond profit to include three-dimensional metrics like customer lifetime value and community benefit.
Watch the full video below to hear Christian's thoughts on brand home trends and a breakdown of how brand homes can track and measure value.
Next article
Sign up for our newsletter